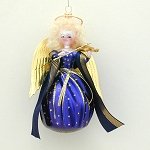 Soffiera De Carlini Free Blown Ornaments
We have moved our Soffiera De Carlini ornaments to our new Blown Glass Ornament web site - www.BlownGlassornament.com -. Click the photo to be taken there.

Soffiera De Carlini was started in 1947 making simple glass Christmas ornaments. Every item, in those days as nowadays, was exclusively mouth-blown and hand-decorated.
Today, after more than 50 years they continue to offer unique and original ornaments, created and made completely and exclusively in Italy.