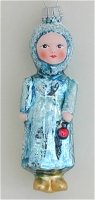 Debbee Thibault Ornaments
We have moved Debbee's ornaments to our new Blown Glass Ornament web site - www.BlownGlassornament.com -. Click the photo to be taken there.

Debbee Thibault has long been known for her folk art sculptures which have an aged timelessness if I can call it such. They seem far older than they are and look as though they have been loved by some child for years and years.

Her beautiful Christmas ornaments have an equal sense of past times to them. Born from the joy she experienced as a child unwrapping the older ornaments that decorated her familes tree these pieces are truly remarkable. They are evocative and each hint at a tale to tell.Should you ever been fortunate to meet Debbee she may tell you the background to one or two. I count myself as quite fortunate to have spent time with her learning about her folk art sculptures and these wonderful blown glass ornaments.