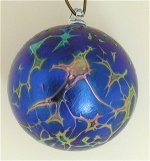 Robert Held Art Glass
We have moved our Robert Held Art Glass ornaments to our new Blown Glass Ornament web site - www.BlownGlassornament.com -. Click the photo to be taken there.

For the past 26 years Robert Held and his studio have been producing wonderful art glass in Vancouver , British Columbia. We carry only a portion of their range related to Christmas but as its been so popular we will expand our offerings in 2009.